By Mark Waters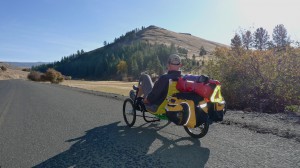 The 13th of October in Oregon is normally a bit late in the season to take off on a four day cycle tour but that's just what my riding buddy Paul and I decided to do to take in the fall color and get a good hard ride in before the snow flies.
The route is an Oregon state cycle route called the old west scenic bikeway and has maps online similar to the route maps from the Adventure Cycling Association showing campgrounds, food, restaurants, etc. With a total length of 176 miles and 8200 feet of elevation gain, it's not a walk in the park, but neither is it beyond the capabilities of an average fit touring cyclist. It's also doable as a credit card tour since there are lodging facilities spaced at reasonable distances along the way.
We decided to ride the route in the opposite direction from recommended because in doing so we'd gain a major tailwind advantage over 3 of the 4 days riding.
Since I own a recumbent cycle shop in Bend OR., my obvious choice of mount was a recumbent. Specifically, a GT3 Greenspeed trike with Arkel RT40 panniers. Paul (who works for me part time and recently was bitten by the trike virus) rode his ICE Sprint RSX  and pulled his gear in a Burley Nomad trailer.
We had friends visiting from Alaska and wanted to have a farewell breakfast with them, so it meant we got a late start on our 3 hour drive to our starting point near Dayville, OR. Dayville is on route 26, which is part of the Trans Am cross country ACA route that's so popular with coast to coast riders.
Once loaded up and ready to ride, we started with a helpful 20 mph tailwind combined with a mild 1% downgrade. We found 18 to 25 mph an easy cruising pace to the nearly non-existent town of Kimberly, OR.
After turning the corner to head east to Monument, our destination for the night, my Mirrycle mirror decided to stress fracture and eject itself on a short 30 mph downhill! Since I only ride with one mirror and those of you that ride recumbents know how vital a mirror is, I retrieved the unbroken glass portion of my mirror and with the saw on my Leatherman tool was able to modify it and reassemble it so it actually worked far better than stock. It no longer vibrates so bad on chip seal roads that I am unable to see what's behind me. We have had very bad luck with Mirrycles breaking in the shop when assembling them and will be doing research in the future to find a better mirror for recumbent cycling.
Our first night's stay in the very small village of Monument was a very wet one; it poured rain off and on all night. The weather was cold but the folks that live there were as warm as can be and very helpful. We were directed to stay in the town park on a nice grassy lawn and we were told we could use the rest room in the county building. When I tried the rest room door and found it locked, Lonnie from up the street called down to me and offered her vacation rental bathrooms for our use and then even offered us use of the house for the night free of charge! I declined because we had just picked up a new tent that I wanted to test out. We were considering selling this line of ultralight shelters in our shop and what a better test run than a cold rainy night out!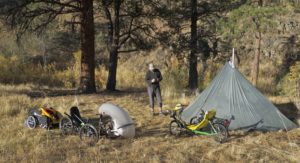 The company that makes the tent, Titanium Goat, in Ogden, UT, is one of three or four small manufacturers that produce ultralight floor less tents; they also have a line of collapsible ultralight wood burning stoves that are designed to be used in the tent. Let me tell you, having a warm dry space to duck into early and socialize and be comfortable after a long day's ride is a revelation. It totally changes your perspective on camping out on late or early season bike tours when the days are short and the nights can become very long when the only warm place is being zipped up into your sleeping bag. The tent weight is 3lb. 7 oz., and the titanium stove weighs only 1 lb 10oz! The total weight is about 5 lbs and the very spacious 102 sq ft was awesome for 2 people and gear.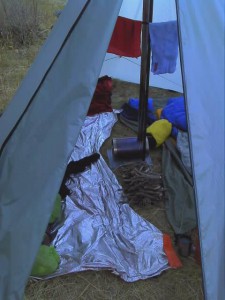 Waking up to a damp 39 degrees I lit the stove and within seconds was toasty warm and comfortable in short sleeves and outside of our bags making breakfast (oh, and you can cook on it). Our first night out in Monument wasn't too cold (about 45), but it rained cat and dogs. A perfect test for the new tent as it turned out and it kept us dry and comfortable.
After leaving Monument the road climbs pretty steeply for about 2200 ft. in 10 miles. With a chilly tailwind pushing me uphill for the most part it took me a bit longer to reach the top than Paul. This was to prove the case for the rest of the trip. Earlier in the summer I was in much better shape since I was riding almost daily with Paul, but for 2 or 3 months I got side-tracked with business trips and sailing and kayaking and really slacked off on riding; consequently, I found myself paying the toll on the longer, steeper climbs. Especially hauling 40 or so pounds uphill, I was 1 to 2 mph slower on the climbs than my buddy. Fortunately Paul is a patient guy and was waiting for me at the top and ready for a screaming descent into the tiny town of Long Creek.
Paul hit 46 mph on the way down whereas riding the Greenspeed with the smaller wheels and shorter wheelbase kept my speed to no more than 40 mph. When your butt is 4″ off the pavement, 40 feels like 80! When non recumbent trike riders see a touring trike they assume that they are too slow to even consider but at the end of our tour my average speed, according to my Garmin, was 12.1 mph for 176 miles and 8200 vertical feet of climbing. About on par with my average speed when I have toured on upright touring bikes but WAY more comfortable. Paul's average was a bit higher at 13.7 mph. This was Paul's first mufti-day cycle tour, so he kept a very fast pace considering the load of gear in his Burley Nomad trailer. It may be a bit slower on the climbs riding a trike but way faster and more fun on the downhill. Kinda like a street luge with camping gear!
At Long Creek there's a little cafe with excellent food, and after stuffing ourselves and chatting with the very friendly and sociable natives we were off again up Hwy 395. Now we were facing a quartering crosswind that slowed us a bit. Riding into the wind on a recumbent isn't as traumatic as on an upright touring bike. The panniers on my trike actually have the effect of making me MORE aerodynamic rather than less. On a regular tour bike they stick out and create drag, but tucked in behind me, they are like a tail sock which streamlines the airflow behind me to amount to less drag.
The road for the next 20 miles was my least favorite type of riding: screaming descents followed by grinding steep uphills. Soon though we were on one of the best roads I've ever ridden, County Road 20. Paved, this road climbs at a very gradual grade for almost 50 miles. Averaging a brisk 14 to 17 mph, following a beautiful clear river, we decided to camp early at a great riverside campsite next to the road. Traffic was so scarce, no more than 3 cars went by the whole time we were there.
As soon as the sun went down, the temps dropped pretty quick. Having the woodstove in the tent made for another great evening hanging out someplace warm while temperatures quickly dropped into the 30s. When we woke up in the morning, Paul had a coating of ice on his windscreen.
The ride up County Road 20 was the best fall ride ever! We rode 25 miles before we were passed by a vehicle headed in our direction. Sunny, clear skies and gorgeous scenery combined with a slight tailwind which made for a brisk uphill cruise. We then headed east on Hwy 26 where the cross country Trans Am route passes through and began the endless climb to the Dixie Summit at 5300 ft.
A half mile below the top I experienced the dreaded bonk and was forced to stop and refuel with large quantities of mint M&Ms. Replenished, I got to the nearly 3000 ft. descent in Prairie City where Paul was waiting a the local saloon. After a most welcome meal we headed to the Depot campground in town to set up camp for the night. It ended up being the coldest night of our trip with a good amount of ice coating the inside of the tent by morning. 
The Titanium Goat wood stove made short work of the icy interior upon waking. One cannot grasp what a luxury instant heat is when waking up to an icebox while camping out. I never even had to leave my sleeping bag to start the stove!
After one of the best breakfasts I can remember having while touring through a small town, at Chuck's Diner, we headed the 55 miles back to Paul's truck.
The elevation loss over the 55 miles is about 800 ft. Not a lot, but enough to make for a fast last day's ride. Most of the time I was averaging over 20 mph. That's with a full touring load on a "slow recumbent trike." Paul was feeling more like taking it easy due to a bit of knee strain, so for once, I was waiting for him at our lunch stop in Dayville.
The only section that lists a caution for the route was going through the canyon before turning up Route 19 to our vehicle. It mentions minimal shoulders which is accurate, but it only lasts for about two miles.
Overall I'd say this ranks as one of the best short tours I've ever ridden. Because of the combination of beautiful scenery, low volume roads, and well placed towns for resupply, this is a must do